| | |
| --- | --- |
| Posted on October 28, 2013 at 8:00 PM | |
The EWG has come out with another informative article, this time discussing the "dirty dozen", the list of 12 chemicals that disrupt the endocrine system.
What is the endocrine system?
The endocrine system is the system of glands, each of which secretes different types of hormones directly into the bloodstream (some of which are transported along nerve tracts to maintain homeostasis.  The endocrine system is in contrast to the exocrine system, which secretes its chemicals using ducts.  The endocrine system is an information signal system like the nervous system, yet its effects and mechanism are classifiably different. The endocrine system's effects are slow to initiate, and prolonged in their response, lasting from a few hours up to weeks. The nervous system sends information very quickly, and responses are generally short lived. Hormones are substances (chemical mediators) released from endocrine tissue into the bloodstream where they travel to target tissue and generate a response. Hormones regulate various human functions, including metabolism, growth and development, tissue function, sleep, and mood. (http://en.wikipedia.org/wiki/Endocrine_system)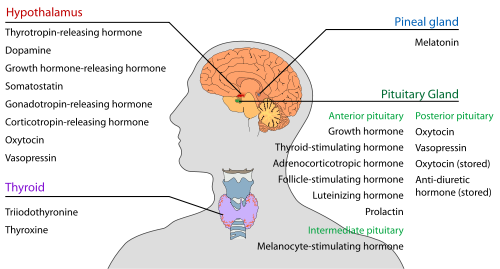 What do endocrine disruptors do?
There is no end to the tricks that endocrine disruptors can play on our bodies: increasing production of certain hormones; decreasing production of others; imitating hormones; turning one hormone into another; interfering with hormone signaling; telling cells to die prematurely; competing with essential nutrients; binding to essential hormones; accumulating in organs that produce hormones.
The Dirty Dozen: 12 hormone altering chemicals.
BPA, Dioxin, Atrazine, Phthalates, Perchlorate, Fire retardants, Lead, Arsenic, Mercury, Perfluorinated chemicals (PFCs), Organophosphate pesticides, & Glycol Ethers.  You should avoid these chemicals in your personal care products.  For detailed information on why please check out the EWG article & don't forget to use the EWG to research your hair and skin care products to avoid these and carcinogenic chemicals.  http://www.ewg.org/research/dirty-dozen-list-endocrine-disruptors
Categories: None